Your donation helps send local, low-income children back to school with a backpack, school supplies, a free haircut voucher, food hamper, and personal hygiene products. Help us ensure no child is left behind!
WE'RE HERE FOR YA DAY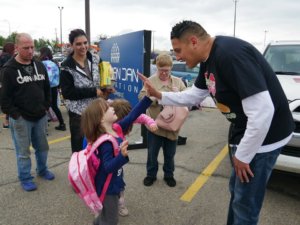 Due to the ongoing COVID-19 pandemic, the 8th annual We're Here For Ya Day has implemented a pre-registration system.
AUGUST 30, 2020 | TIME: 10 AM TO 5 PM
Wolfe Cadillac - 17820 Stony Plain Rd, Edmonton, AB, T5S 1A4
Join the Can Man Dan Foundation on August 30th for the 8th Annual We're Here For Ya Day, where you can gain access to free backpacks, school supplies, food hampers, haircut vouchers, and more! No judgement, no questions!
If you registered and have not received a confirmation e-mail from us, please contact us and include your phone number.
We appreciate your compliance with our new guidelines to make this a safe and enjoyable community exercise.