Cadillac's New CT5 Compact Sedan. A Fusion of Style & Performance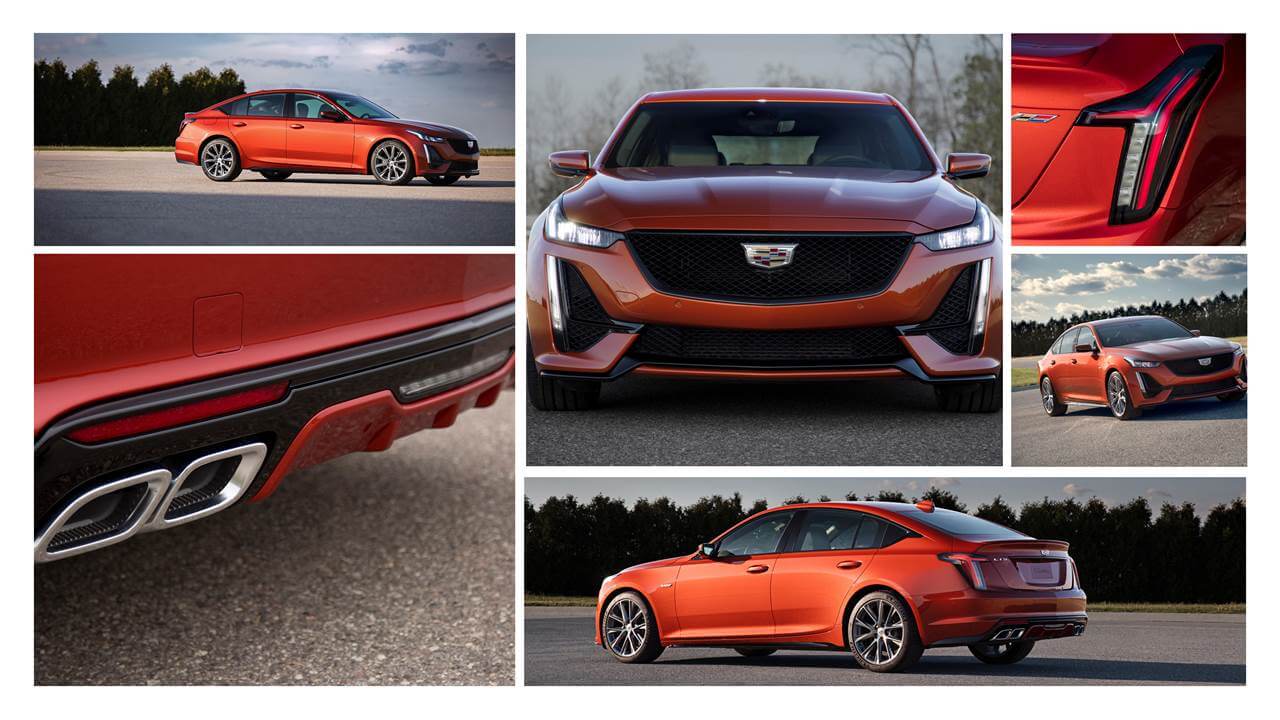 The highly anticipated 2020 CT5 is Cadillac's newest sedan, taking Cadillac into a new era. It may be a common misconception that the CT5 is a recreation of its predecessor, the CTS. However, it is a completely new platform and the blueprint for the next generation of Cadillac sedans. This leading-edge design was created to be spacious, yet lightweight and versatile enough to provide a platform for high-performance handling. Available in rear-wheel & all-wheel drive. The newly released 2020 CT5 is currently powered by a 237-hp 2.0-liter turbocharged four-cylinder or a 335-hp 3.0-liter turbocharged V6 combined with a 10-speed automatic transmission. When released, the V-Series trim will provide additional power to the 3.0-liter V6 engine, increasing the horsepower to 360-hp.
CT5 Standard features
Many of us have grown accustomed to the great features Cadillac has to offer. Standard features include; CUE infotainment system, navigation, satellite radio, Bluetooth, 4G LTE, Apple CarPlay/Android Auto, a 10-inch display screen, Automatic Emergency Braking, and dual-zone automatic climate control. The Premium, Sport and V-Series trims add Rear Park Assist. Optional equipment includes Bose Premium Audio, heads-up display, sunroof, heated steering wheel & heated seats, vehicle distance Indicator, lane keep assist & lane change alert combined with rear cross traffic & side blind zone alert.
Evolved for the Next Generation
This vigorous new foundation ensures magnificent ride and handling. CT5's exterior design was inspired & created with bold, attractive lines that were inspired by the 2016 Escala concept. The noticeably large, Cadillac crest, brandishing the center of the front grille and the CT5's bold design is pretty well executed & exceptionally noticeable in Sport trim. CT5's rear design is just as attractive as the front, fluid & sharp from every angle. Trimmed with a razor-sharp lateral profile that sparks intrigue, which will have passers-by, taking notice.
Attractive New Interior
Overall, the new interior and dashboard of the 2020 Cadillac CT5 is ergonomically satisfying & aesthetically pleasing to the eye. Displaying tidy dash layout, the screen, optional carbon wrapped console, various controls and buttons are elegantly positioned and user friendly. The center console consists of a rotary gear selector to change performance modes for the 10-speed automatic transmission. Surrounded by a few buttons to adjust some of the vehicle's multiple functions and accessories. Complete with multiple drive modes, plus controls for hill start assist, engine start-stop, and stability control. Wireless charging capability for compatible smartphones is included as well.